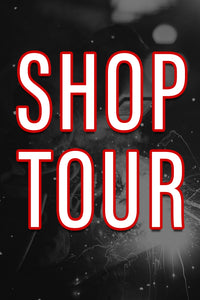 December Shop Tours
Please select your date and time, we only have 10 spots available for each hour.
Make sure your date and time are correct before you purchase!
Tours are by reservation only to get a tour set up please reserve a time with the link below. For Safety reasons --you must be 13+ years or older to attend. If under the age of 18, you must be accompanied by an adult.
9:00 am, 10:00 am, 11:00 am, 1:00 pm, 2:00 pm, 3:00 pm, and 4:00 pm are the times we have tours.
The tours are $5 per person.
Tours last about 45 minutes and you get to see the entire shop in action. We do not allow pictures in the shop.
 Please come 5-10 minutes before your reservation to get checked in. If you are late for your reservation, we will fill your spot with a walk-in. So please do not be late!
---