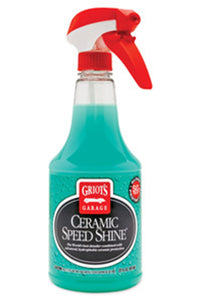 CERAMIC SPEED SHINE® - 22oz
The World's best spray detailer now with ceramic protection. It features an exclusive blend of advanced silane polymer technology combined with SiO2 to maintain an ultra-slick, insane-gloss finish in between more significant washing and protection processes.
Everything you love about Speed Shine® plus SiO2 protection
Super slick, ultra-hydrophobic finish
Can be used as clay or surface prep tool lubricant for paint decontamination
Safe on all exterior surfaces and paint protection film
Ceramic Speed Shine is a super effective detail spray that can be used for light duty cleaning of dust, pollen, smudges and light road grime while leaving behind a super slick ceramic finish. The unique, lubricant based formula contains advanced silane polymer technology combined with SiO2 to create a fast flashing, easy to use protective detail spray. The formula is great for those quick touch ups between washes and also can be used as a lubricant with paint cleaning clay or one of Griot's Garage's synthetic clay options during paint decontamination. Also works great as a drying aid, simply mist Ceramic Speed Shine on your still wet vehicle as you dry for an intense visual pop and additional ceramic protection. Remember when you first fell in love with Speed Shine? Get ready to do it all over again with Ceramic Speed Shine!
---