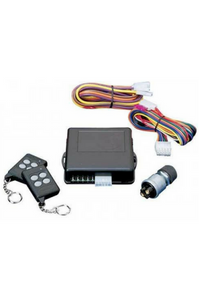 Shaved B Kit
Spal Shaved B Kit - The kit comes with two relays. It requires two actuators at a cost of $10 each. The actuators we give you are for locking and unlocking the door only.

** If you are using the Shaved B Kit for Door Poppers we suggest getting a dual actuator you can find those here: AVS Website ** Also if you would like to link up a trunk actuator we suggest buying a single dual actuator here: AVS Website
The actuators we sell will not pop the door open.
The waterproof 7-channel remotes can handle opening the doors as well as options such as trunk release, power window control, moonroof control, and much more!


Kit includes:
Two 7-channel remotes, relays, prewired harness, waterproof release switch, and complete instructions. A toll-free tech assistance number is included.
---